Book 'Village Dance',
original klezmer compositions
15 klezmer compositions
For C, B-flat or bass clef instruments
These 15 neo-trad tunes, composed by Gregor Schaefer, have all been performed and recorded by the klezmer bands that he has been a member of: Shtetl Band Amsterdam with Christian Dawid, The Fidl Kapelye, Mazzeltov & Rolinha Kross. Many of the tunes have also been played, and praised, by international klezmer musicians.
All of the compositions are in the easy to intermediate category. Advanced players can also find fresh ideas and new challenges. The tunes are grouped into the most common klezmer genres (sub-styles): khusidl, freylakh, fast 2/4, terkisher, zhok, slow tunes in '3'. These melodies are both great for dancing and they make fresh concert repertoire. Also included are two nign-like melodies, wordless songs, meant for listening.
The tunes are professionaly notated as leadsheets, that is melody (with some phrasing marks) and chords. See the sample notation below. Much care has been given to readability and overall clearness.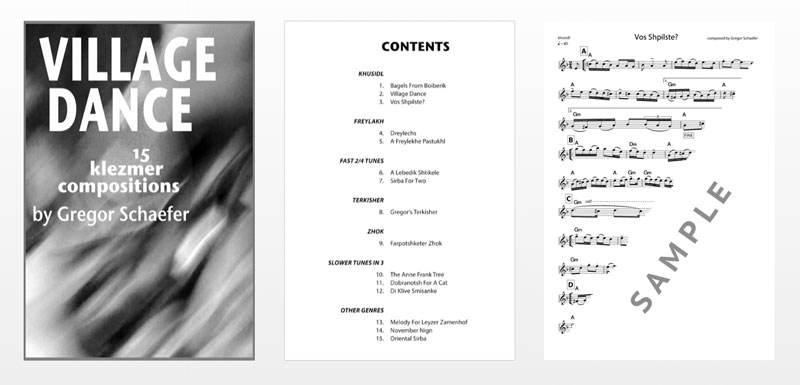 Click on the picture for a larger view of the cover, the page of contents and a sample tune.
The tunes
Khusidl
1. Bagels From Boiberik
2. Village Dance
3. Vos Shpilste?
Freylakh
4. Dreylechs
5. A Freylekhe Pastukhl
Fast 2/4 tunes
6. A Lebedik Shtikele
7. Sirba For Two
Terkisher
8. Gregor's Terkisher
Zhok
9. Farpotshketer Zhok
Slower tunes in 3
10. The Anne Frank Tree
11. Dobranotsh For A Cat
12. Di Klive Smisanke
Other genres
13. Melody For Leyzer Zamenhof
14. November Nign
15. Oriental Sirba

EXTRA INFO IN THE BOOK
Besides the 15 compositions, the book gives valuable information about klezmer music in general. There is an introduction to klezmer music and its development through the years. The klezmer dance genres (sub-styles) are explained. For those who want to learn even more about the style, there is a page with Recommended Listening and Further Reading.
PRAISE FOR THE BOOK
"Your tunes are wonderful"
- Walter Zev Feldman

"I love your book!"
- Pete Rushefsky

"Beautifully presented"
- Christian Dawid
VERSIONS
The book is available in 3 versions:
» C version: for violin, accordion, guitar, mandolin, piano, tsimbl, flute, C-clarinet.
» Bb version: for Bb-clarinet, trumpet, tenor and soprano saxophone.
» bass clef version: for bass, cello, trombone.

In each version, the music is notated as melody with chords, transposed for the specific group of instruments.